To survive with Social Media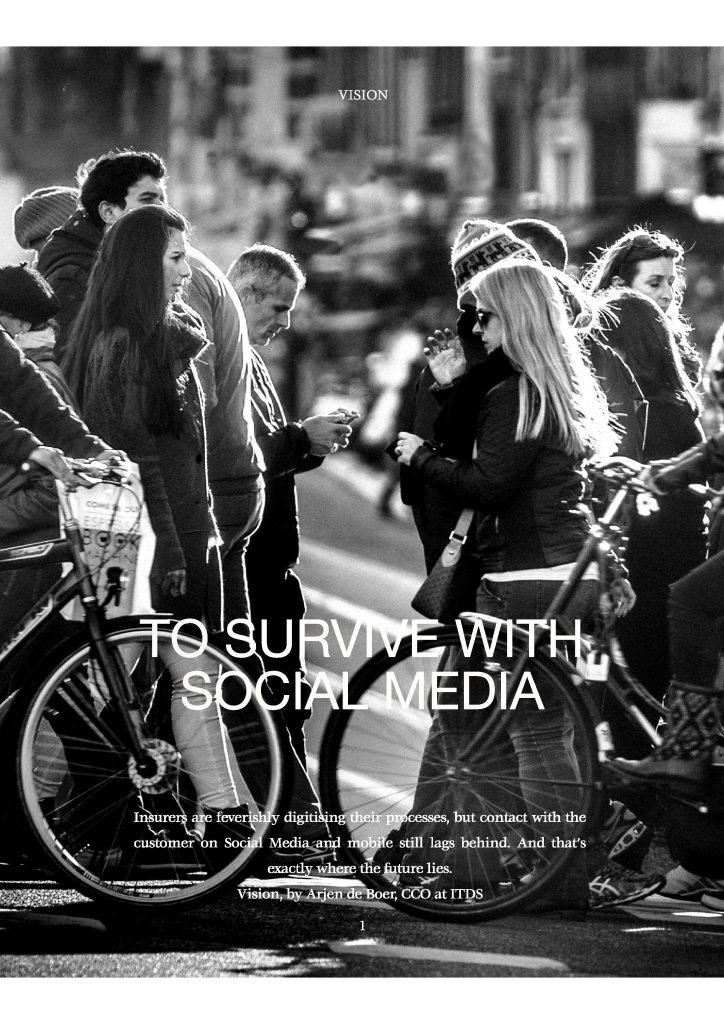 De verzekeringsbranche wordt van vele kanten opgeschud. Nieuwe technologieën, start-ups met vernieuwende business modellen en veranderend klantgedrag. Om in deze nieuwe wereld te overleven zullen verzekeraars drastische veranderingen moeten ondergaan binnen de organisatie om het gebruik van Social Media actiever en slimmer in te zetten. De enige kans om te overleven is het worden van een échte Social Company.
In het artikel hieronder deelt ITDS directeur Arjen de Boer zijn visie op deze ontwikkelingen. Dit artikel is een publicatie uit de Global Edition van het SoMe magazine, welke u hier kunt downloaden.
SoMe, the Global Edition
Dit jaar publiceerde ITDS haar eerste Global Edition van het SoMe magazine. In het magazine staan de resultaten van het eerste wereldwijde onderzoek naar de inzet van Social Media door verzekeraars gepresenteerd. Het onafhankelijke onderzoek rangschikt de top 20 wereldwijde verzekeraars in de Social Media Insurance Monitor, gebaseerd op interviews, desk research en metingen. In het SoMe magazine staan, naast deze ranking, interviews gepubliceerd met leidende figuren uit de financiële branche.